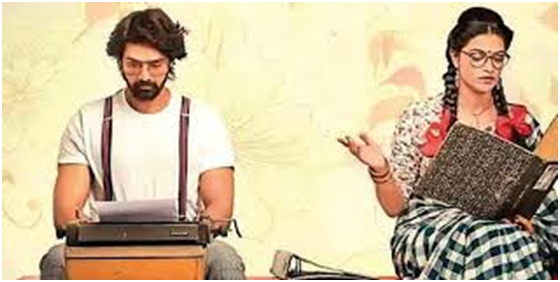 Love stories have always held a special place in everyone's heart. From creating cheesy cliches to threading inspirational and unique plots in love stories, Romantic films will always be everyone's go-to genre, and you can never go wrong with it.
We have all grown up watching some good romantic films rolled out from the various film industries. One such movie industry that will be the center of discussion in this Article is the Telugu film industry or most widely known as Tollywood.
Known for their versatile, over-the-top, and vivid depiction of cinema, the industry never does anything subtle, and that is its charm with which it is known by and sort out for.
Tollywood has rolled out many films during this pandemic via OTT Platforms to keep the love for films high during adverse times. One such streaming platform that has helped create the perfect platform for new and different plots to get a platform to air on is AHA. A relatively new streaming platform, AHA is an exclusive streaming subscription-only platform that lets its viewers watch regional films, especially HD full Telugu movies, web series, and shows.If you want to watch romantic Telugu films, then aha has quite a several films in the genre, and here are a few popular ones.
Bhanumati& Ramakrishna.
They were released exclusively on AHA, and OTT Streaming platforms exclusive to South-Indian films and series, on the 3rd of July 2020. Bhanumathi& Ramakrishna is a Telugu romantic-drama film, written and directed by SrikanthNagothi and starring SaloniLuthra and Naveen Chandra, the leads.The film tells an old tale of love in a fresh new way. From the other side, the movie deals with a couple in their 30s finding love.
The lead pair here are like two separate fluids that strive to fit into one bottle while breaking stereotypes. After a recent split, Bhanu, a woman in her 30s, is looking for true love. Meanwhile, Ramakrishna, a 33-year-old Tenali native, is a simple man. Even though they are poles apart, Srikanth depicts how their stress levels are identical.
In this two-hour direct-to-video film, SrikanthNagothi keeps the story simple and sensible. The fresh plot winds the blossoming love in the mature couple very well.
BucchinaiduKandriga.
BucchinaiduKandriga, named after the same village in Chittoor, is a visual treat for all those who enjoy cinematic shots of rural life and the lush greenery it has to offer.
BuchinaiduKandriga is a period love drama set in a rural setting, written and directed by Poluri Krishna. DrishikaChanda, Munna, and PavitraJayaram star in the film, released on the 21st of August, 2020.
The plot centers on a rural love story woven in the village between Balu and Swapna budding from adolescence. Balu leaves the village when they grow older and returns after two years. Swapna's father is orthodox, and his casteist mind would not engage in anything other than Endogamy, so their infatuation has turned into a deep love bond. The couple agreed to elope to Karnataka, and this is where the problems begin. Swapna returns to the village, leaving Balu to drown in his misery and alcohol.
If you are searching a few romantic movie recommendations, please watch these two unique movies only on AHA, an best Telugu webseries and movies app for Telugu content.